Rawai impressions
It's like a mini Canggu!
Rawai is the Canggu of Phuket.
I think it will develop to me be the CANGGU of PHUKET / THAILAND… it's like 5-10 years behind Canggu
it is a top nomad spot in Thailand next to Chiang Mai, BKK, Koh Phangan.
Phuket Island
Phuket island is the most popular tourist destination in Thailand (and the world). It's where most tourists arrive and spend the most time.
Bali island is 10x the size of Phuket.. which doesn't really matter. But Phuket is basically a coastal town because you can drive to Bangkok.
Phuket Old Town is cool to explore with lots of cool cafes and night market
Nomad community
plenty of nomads / remote entrepreneurs
many BKK nomads came here since covid… and many say they will 'stay'!
Expat community
Plenty of young remote workers, expats families, and retirees. I think Rawai started as a sleepy ol' retired expat area. Now developing into the nomad spot.
Cost of Living
Like anywhere in Thailand / SE Asia, cost of living is 2-4x less than in the USA for comparable things.
As always it depends on where you stay & what you do
I spend around $3-4k a month. Nice villa or condo, motorbike, gym, eating at popular restaurants, party on the weekends.
As always in SEA you could live like a local for $1,000-$1,500 a month. Perhaps not as cheap as Chiang Mai.
I wouldn't recommend a budget of less than $2,000 a month.
Co-working spaces
Project Hub
Let's Work
Nai Harn Space
'Social events like Kohub?' Not sure.
Gyms
Nai Harn Gym – most popular
Stay Fit – nicest gym ever, HIIT classes
Action Point – full gym w/ cross-training classes
Muay Thai

Phuket is the Muay Thai capital of the WORLD! Many professionals train/base here.Powerhouse – in heart of RawaiTiger Muay ThaiPhuket Fight Club (w/ CrossFit Siam, BJJ)a million others
CrossFit Siam
CrossFit Phuket
Weather
as in all Southeast Asia, beautiful and sunny, average mid-80's ☀️
as in any tropical place, there is a 'rainy season' with more frequent showers, but still sunny.
Beaches
Nai Harn Beach – main hotspot in Rawai. Everyone is there for sunset. Great beach for surfing, chill, running, volleyball, football, swimming.
Kata Beach – next closest, popular, great beach, 15 min shoot.
Karon beach – next next closest, another great one.
Work Cafes / Coffeeshops
Rustic & Blue 🔥
BOOST Cafe 🔥
Gallery Cafe 🔥
Cannelle 🔥
Wilsons
We Cafe
Macan Cafe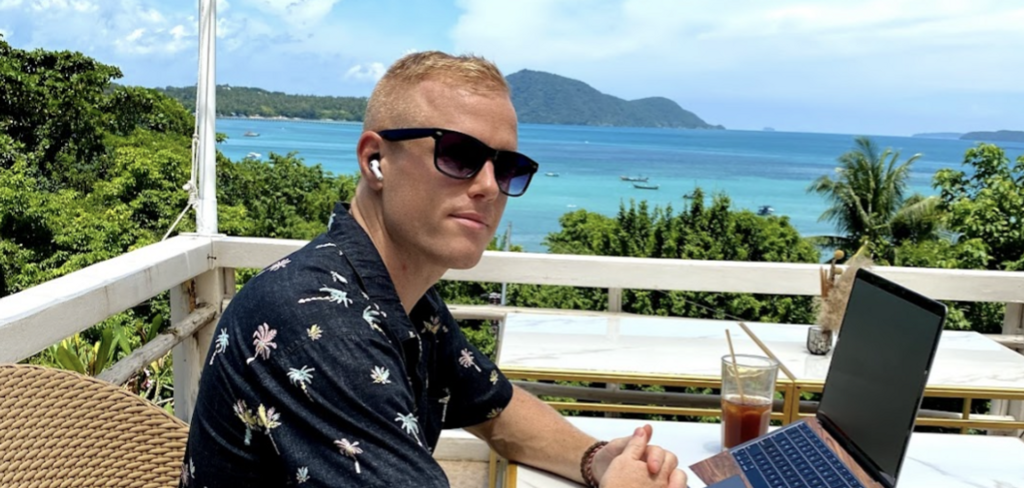 Nice Restaurants
Plenty!
Grills
Zen Eats
Fresca
Kata Rocks (epic sunset spot)
Town layout
It's got a surf town feel, similar to Canggu.
How is the traffic – not really. Roads are paved & easy.
Walkability – Rawai is very walkable, bicycle-able. Everyone scoots on motorbikes of course. Nai Harn lake is packed with walkers
Distance to things – close to anything you need.
Nightlife
Rawai has plenty of bars, sports bars, girl bars, but no 'nightclubs' that I know of.
Patong has EPIC nightlife

just a 20-30 taxi from Rawai
Bangla road / walking street is party central – has it all. It's like a Khao San road. Endless bars, clubs, girl bars, strip clubs, street entertainment, etc.
ILLUZION club is the biggest superclub in Thailand. Big names come through. We've seen Tiesto & Steve Aoki there and it was epic.
Sugar Hip Hop club
Touristy Stuff
ALL the things
Zip-lining, river rafting, elephant riding, boat trips, SUP, jet skis, go-karting, golf, tiger kingdom, scuba diving
Rent a catamaran or small yacht for the day with friends. $1,000 a day for an epic boat, 10-20 people.
Boat to some islands

Coconut Island. Island Escape Resort.
Phi Phi islands
Island hopping day trips with scuba or snorkel

1-hr flight to

Koh Samui – perhaps the 2nd most popular Thai island. I have done several weeks here, a great spot.Koh Phangan – short boat from Samui. Nomad hotspot.Koh Tao – a small island, short boat from Phangan
Villas / Accommodation
Tons of epic villas
Look on Airbnb & Facebook Marketplace
For hotels I tend to use Booking and Agoda
STAY Fitness Resort: $50-$200 a night. Sandbox approved
Travel / Visa / Quarantine Situation
any tourist with vaxx card can visit
Phuket (and Samui) 'Sandbox' is now only 7-days. So you just gotta stay on Phuket island for 7-days, then be free to roam the country. It's NOT a hotel quarantine!
the standard tourist entry 'visa-exempt on arrival' is 45-days (for US citizens) and can be extended once for another 45-days. I just did it and have done it dozens of times over the years.
During covid, there's a new form that allows you to extend more times 'because of covid'. From my understanding, many people have already done this several times.
in November 2021 it's been published that they plan to start a Bangkok Sandbox. As of October Bangkok has a 7-day hotel quarantine.
October 8 updated article on Sandbox Program: https://www.traveldailymedia.com/thailand-is-open-a-travel-update-from-the-tourism-authority-of-thailand/

NEW DIGITAL NOMAD VISA IS COMING

It also partially addresses the so-called digital nomads – people wanting to conduct their online businesses whilst living in Thailand…
The third target group are the digital nomads or employees of foreign companies who want to work remotely from Thailand. They will need to have at least 5 years' relevant work experience, a salary of at least US$40,000 a year."
Instagram Questions
English – as in any popular place in the world, no issue.
Hospital – yes.